Our Adviser Profile this week is Johnson Leung, a Silver Adviser with 4 client reviews and an average customer rating of 4.89 out of 5 stars. Johnson advises from Richway Business Advice in Eight Mile Plains, Qld.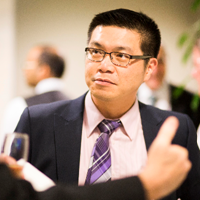 1. Best thing about being a financial adviser?
Being able to connect and build trusted relationship with and make positive change to clients I advise
2. One thing you would like to see improved or changed in the industry?
Getting rid of/ or at least regulate complex investment products that are too complex that no one seems to understand 
3. The areas on their finances or economy that worry your clients the most?
Insufficient retirement savings and the next global financial crisis which seems imminent
4. What's the strangest question a client has ever asked you?
Not a question but a comment – "you do not age"
5. If you could get three things into consumers' heads about what advisers do or don't do what would they be?
a) While from the outset adviser recommends and aligns investment products based on their knowledge with reference to their past and potential future performance to client risk profile and income and growth expectation, he or she do not and cannot guarantee actual return on investment
b) Good advice cost time and money to prepare therefore should be fairly priced not to mention the cost and time around licensee compliance management/ education/ exam/ CPD required to stay on the advice space
c) Financial plan is dynamic document that needs ongoing review/ adjustment due to constant change in particularly investment and regulatory environment and client circumstances.
6. How do you describe your job at BBQs?
All rounded accountant/auditor and business and financial adviser.
Article by:
Johnson Leung
Was this helpful content?
Let others know - share and vote-up